Elite Su-Sta
Height adjustment front wheel support. Simulate both flat terrain and slopes perfectly!
Unique design with 5 levels lets you adjust the height of your front wheel to simulate hill climbs up to 6%
Anti-slip rubber feet eliminate handlebar vibrations
Internal design that guarantees maximum wheel stability
Suitable for both road and Mtb
You can attach to the trainer frame when not in use for easy transport and storage
Related Products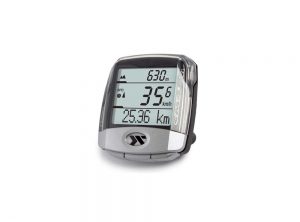 CicloMaster CM 4.4
With his altimeter functions the CM 4.4A is a real summiteer. The multi function computer for athletic orientated cyclists for who every meter counts, informs with up to 44 functions ex-actly about highs and lows of every tour. Due to the optional cadence function one can easily control the effectiveness of the training. Valuable clues in regards to the accurate kick can be given by the optional cadence function.


Delivery scope 
CM 4.4 A, handlebar bracket and sensor, spoke magnet and mounting materials
Optional: wrist band (for jogging computer use)

Colour 
silver/black