Featured Bikes
Featured Rider Gear
Giant Short Sleeve Base Layer
Giant Short Sleeve Base Layer is a lightweight long sleeve base layer with cycling specific drop tail design and raglan cut sleeves. Constructed from Transtextura™ Plus anti-odour fast wicking fabric to keep you dry and control your temperature. Features • Transtextura™ Plus • Fast wicking • Anti odour • Short sleeve • Raglan cut sleeve • Drop tail cycling specific design
Featured Bike Gear
Giant Advanced Road Dropouts
ADD SOME COLOUR TO YOUR CYCLING WORLD.
Giant's new anodised components are perfect for transforming the look of your ride. Suitable for a wide range of models in a choice of colours; give your bike the personal touch.
• TCR Advanced drop out
• Two bolt fitting
• Anodised finish
• Fits:
• 09-10 Avail & Defy Advanced
• 10 Avail & Defy alliance
• 10 Dash & Rapid
• 05-08 Ocr Composite
• 05-10 Tcr Advanced & Advanced & Advanced SL
• 07-08 Tcr Composite
Mavic Crossride Disc 15/12 mm Thru Axle 650b Wheelset 27.5 inch – Black
More than 10 years after its launch, the recipe has changed but the goals remain: quality, efficiency and reliability. Mavic specific technologies ensure enhanced performances on any bike. Completely endorsed by the Crossride – an incredible value! A specific version of the front wheel makes it compatible with 15mm forks. 

The hub construction reduces weight and the higher rim profile increases stiffness. Efficient and reliable wheelset thanks to high-end features: QRM bearings and TS-2 freewheel for direct power transfer, Hammer Hardening (H2) spoke holes and Straight pull spokes – stronger than J bent spokes. Unique esthetics will make any bike look better: black, disc brake specific rim profile, large and visible graphics and bladed aero spokes. 
The front wheel has 15mm thru-axle. With optionally adapter is it possible to make your front hub compatible with a quick release fork. With the included adapter the rear wheel can be converted to x-12 standard (12x142mm). Also it is convertible to 9mm quick release by an adapter, which must be ordered separatly. 

Technologies:
TS-2 (Transfer System 2) Using 2 pawls engaging simultaneously, this freewheel system is also fitted with an alloy monobloc axle that is light and stiff and offers multiple compatibilities. 
H2 (Hammer Hardening) – Local strengthening of the rim in the area where the spokes exert the greatest force. This improves life expectancy and the resistance to micro cracking.
QRM (Qualité Roulements Mavic) – Mavic only uses high quality sealed cartridge bearings. On QRM wheels, they feature double sealing (2RS or LLU) together with tight C3 internal clearance. High efficiency thanks to low play and tight tolerances. High durability.
Self Lock – The special shape of the spoke end, on the thread, makes it impossible to loosen. The spoke stays tightly screwed into the nipple, no tension loss is occuring. As a benefit, the wheel keeps its original roundess for a long time, and does not get out of true.

Maintenance/care:
Clean with a dry cloth or soap and water. Do not use pressurized water. 
Elite bottle cage Custom Race
Custom Race
Used by more Champions than any other cage of the past decade, the custom race is a modern racing icon
Custom Race is the bottlecage most used by Pro Tour Teams
Painted fiber-reinforced (FRP) painted material
Glass fibre-reinforced polyamide construction is durable, supple and attractive.
Adjustable elastomer rubber, adapts to bottle shapes and absorbs vibration
Available in the fluorescent colors and new soft touch version
Perfect for hard riding
Perfect for any ride, from your Sunday run to the Champs-Élysées
Elite Vaison
Extra strong hard case, with double wall in high-density polyethylene!
Compatible with road and mountain bikes, with suspension and disc brakes, with frame sizes up to 62 cm
Fitting the bicycle inside the case is particularly easy thanks to the hinges that allow 180° opening of the two shells similar to that of suitcases
The four fasteners with incorporated lock prevent possible theft of components during transport
The two handles located on the sides of the case enable lifting and carrying is facilitated  by the bottom wheels
Giant Gateway Bottle Cages
Giant Gateway Comp Bottle Cage is a lightweight and flexible plastic bottle cage, weighing in at just 31g
– Flexible plastic bottle cage
– Takes up to 750ml bottle
– Lightweight: 31g
Giant Contact Trail Riser
Giant Contact Trail Riser Bar features lightweight 7050 aluminium construction, weighing just 220g. Featuring 750mm width with, 19mm of rise for trail riding, 9° rearward and 5° upward sweep and incremental set up graphics for precise position adjustment.
– Very light (220 grams), 7050 aluminium alloy construction
– 31.8 clamp diameter, 750mm width with 19mm of rise for trail riding applications
– 9° rearward, 5° upward sweep
– Incremental set up information for precise adjustment
Giant Contact Pump for Suspension Forks
WHEN IT COMES TO ESSENTIAL CYCLING GEAR, THE PUMP RANKS HIGH. AIR UP YOUR TYRES, GRAB YOUR MINI PUMP AND GO. Giant's full line of Control Tower floor pumps, Control Mini and Pocket pumps will keep you rolling with ease. User friendly, efficient and full of features so you can spend more time riding. Features – 300 psi (20 bar) removable gauge for easy storage on or off the bike – Foldable hose and T-handle – 2-3 psi micro-adjust bleeder button – Rubber armoured gauge prevents damage and increases accuracy and longevity – Double function inflates shocks and tyres with included Presta adapter.
Giant MPH Root Disc Pads
• Compound density – Medium.
• Softer compound provides high power consistent performance, quick bedding in time, and a strong bite from cold. Rotor friendly compound.
• Uberbike pads are manufactured in the same factory as leading brands, and tested to the highest standards.
• Recommended application – Good value all purpose pad for a wide variety of riding styles from XC to Downhill.
• Supplied with Stainless Steel Springs.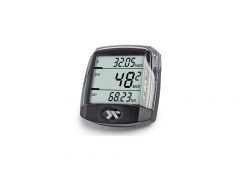 CicloMaster CM 2.1
The ideal cycle computer for beginners and those bikers who want to focus on the essential – biking. It works full automatically, without buttons and shows all necessary data on a three line display. The basic settings can be controlled very easily with two pins on the back of the computer.


Delivery scope 
CM 2.1, handlebar bracket and sensor, spoke magnet and mounting materials 

Colours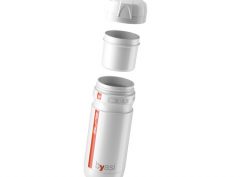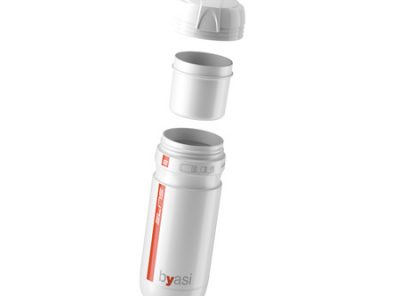 Elite Byasi Storage Bottle
A spacious and easy to use tool case!
A stylish reinterpretation of the classic 'tool bidon' as used by many pros when training!
Keeps your tools, tubes, keys and phone safe and dry whilst out on a ride.
Innovative divider allows you to keep your personal effects separate from your tools and spares
Standard diameter (ø 74mm)
Available in white or black colour
Recently Added Products