Featured Bikes
Featured Rider Gear
Santini WT Underhelmet
Underhelmet  made of Superoubaix  fabric with windproof Windtex protection on the front. Maximum warmth,comfort and softness. Incredibly elastic, it fits all sizes.
FEATURES
—Superoubaix warm fabric
—Windproof layer on the front
—Breathable and elastic
Featured Bike Gear
Mavic Ksyrium Elite S Special Edition Wheelset With Tires
The famous Ksyrium Elite: lightweight and reliable performance! 

True to its precedent of offering the high end technologies usually reserved for only top of the line models, the Ksyrium Elite S achieves unparalleled weight savings and reliability at this price level. With extra light Yksion Pro tires. 

ISM lightened rims reduces inertia by 30% and the low profile front rim reduces rotational masses to provide easier steering The hub design to keep weight as low as possible. Wider wheel dish thanks to asymmetrical rear rim Isopulse lacing provides better spoke tension balance for high stiffness under high loads. The optimized bearing positioning reduces axle flexion thus wheel deflection. 

The Yksion Pro GripLink tire is the right tire when grip makes the difference. Rely on the Yksion Pro GripLink features to make the difference in cornering. It has been thought to match with performance of Mavic front wheel-tire system. 
The Yksion Pro PowerLink is the ideal tire when responsiveness makes the difference. Rely on the Yksion Pro PowerLink features to make the difference in accelerations. It has been thought to match with performance of Mavic rear wheel-tire system. The combination of Yksion GripLink on front and Yksion PowerLink on the rear is the perfect wheel-tire set for the most demanding athletes. 

Technologies:
Fore – By drilling only one rim wall, Mavic made the rim four times more resistant to fatigue stress. All your energy is transmitted through a 40% increase in rigidity.
Maxtal – Exclusive to Mavic. An aluminum alloy that is 30% more resistant than a 6106 alloy for lighter and spicier rims.
Isopulse – This spoke lacing design and mounting brings better wheel stability, a constant spoke tension and a crystal clear transmission of energy.
FTS-L (Force Transfer System Light) – The reinforcement of the key transmission components brings a lighter and stronger hub to allow the energy to flow freely to the entire wheel.
ISM (Inter Spoke Milling) – Since the rim wall between each spoke hole is subjected to very little stress, it is possible to mill it to save weight. The rim is CNC machined, leaving just the necessary material to obtain the best weight/rigidity/durability ratio. SUP (Soudé Usiné Process) – A welded and milled rim joint which is extremely strong, eliminates shuddering when braking and offers superior wheel balance.
UB Control (Usiné Brut Control) – The braking surfaces are milled to improve braking friction and eliminate shuddering.
QRM+ (Qualité Roulements Mavic Plus) – Mavic Quality Bearings Plus. 

Tire technology:
GripLINK A good tire must fully liberate the wheel's potential and even enhance its performance. Therefore, the expected benefits of the front tire are different from the rear one. GripLink clinchers are optimized for front use. The safest grip with great steering control: Dual compound "S+" with added Silica. Hold the road in any situation: light and supple high density casing. Reduced risk of flats: strong Nylon anti-puncture breaker.
PowerLINK clinchers are optimized for rear use. Superior energy transfer, reduced rolling resistance and safe grip: Dual compound. Improved ride: light and supple high density casing. Higher durability and reduced risk of flats: Dual compound and strong Nylon anti-puncture breaker. 

Maintenance/care:
Clean with a dry cloth or soap and water. Do not use pressurized water. 
Saddle Giant Contact SL Upright
Giant's new line of performance saddles uses our Dynamic Cycling Fit philosophy to help you find the perfect fit for your body, your position and your riding style. Every Contact SLR and Contact SL model is available in three different options (Forward, Neutral or Upright) based on the unique contact angle of a rider's pelvis while riding.
Features:
High performance material specification
Vacuum formed strong, durable high-quality microfiber cover
Lightweight foam fill
Strategically placed Particle Flow Technology
Composite base material
SST™ lightweight tubular metallic rails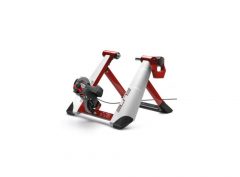 Elite Novo Force
Top resistance unit, innovative frame: excellence renewed
8 resistance levels adjustable by a practical selector on the handlebar.
Use the Misuro B+ sensor for compatibility with the My E-Training or third party appsNovo frame: integration of steel and technological plastic materials.
Magnetic resistance unit, very compact.
Maximum stability at high speeds or at maximum effort guaranteed by the absorbing structure of the frame.
Lifting of the bicycle is limited to the minimum.
Fast fixing system: the bicycle can be clamped and released with a single quick operation.
New adjustable support system, allowing an adequate and constant pressure between the roller and tyre.
30 mm diameter elastogel roller.
The training roller folds up easily and becomes compact for easy transport or storage when not in use.
Adapts to all wheels from 24" to 29".
Giant Contact SLR Aero Integrated Carbon Handlebar
Key Features
Ultralight, one-piece full-composite construction fine-tuned for vibration damping and aerodynamics
Dual radius drop and aero top profile for maximum aerodynamics
12 width/length combinations meets most performance fit needs
OverDrive 2 provides improved steering stiffness
Compatible with the new Contact SL Aero Clip-on system
Giant Connect SL Drop Bar
Giant Connect SL Drop Bar Road Handlebar is a great upgrade for your road bike, featuring lightweight aluminium construction, ergonomic dual radius for comfort and compatible with clip-on aero bars for triathlons.
– AL2014 alloy bar
– Dual radius drop for comfort
– Clip on compatible
– Wide range of sizes for men, women
Giant Wheels (26″, 27.5″, 29er, 700c)
• Giant mountain wheels 26″ for V-brakes
• Giant mountain wheels 26″ for disc brakes
• Giant mountain wheels 27.5 for disc brakes
• Giant mountain wheels 29er for disc brakes
• Giant road racing wheels for 9-10-11 gears
Mavic Crossroc XL WTS 26″ UST Wheelset With Tires
The tubeless wheel-tire system for adventurers: Crossroc XL WTS. 

Crossroc XL brings the wheel-tire system benefits to the Enduro adventurers. The wide 21 mm UST rim perfectly matches the all new Crossroc Quest all round UST Ready tire, allowing to ride fast and worryfree in the harshest conditions. 

The front wheel is compatible to 15 mm thru axles. With an optional adapter it is possible to make your front hub compatible with 20 mm thru axles and a quick release fork. Therear wheel is compatible with 9 mm QR, 12×135 mm thru axles and with an optional adapter, it is possible to make your front hub compatible with 12×142 mm thru axles. 

Top features: 
wide 21 mm UST rim
wide 2.4 Crossroc Quest tire with Guard protection
24 solid spokes
tire and rim perfectly match


Technologies: 
QRM – (Qualité de Roulements Mavic) Mavic only uses high quality sealed cartridge bearings. On QRM wheels, they feature double sealing (2RS or LLU) together with tight C3 internal clearance. High efficiency thanks to low play and tight tolerances. High durability. 
UST – Traction and control Universal Standard for Tubeless. Ready to ride tubeless system. The UST concept improves traction, control and comfort whilst reducing inertia and flats. No tube for convenient handling. Enables to ride at lower tyre pressure. UST rim profile with specific humps to fix securely the tyre beads. Compatible with all types of tires (UST, Tubeless ready, tubetype). 
H2 – (Hammer Hardening) Local strenghtening of the rim in the area where the spokes exert the greatest stress. Improves rim's life expectancy. Resistance to micro cracking. 
TS-2 – (Transfer System 2) Using 2 pawls engaging simultaneously, this freewheel system is also fitted with an alloy monobloc axle that is light and stiff and offers multiple compatibilities. 

Crossroc Quest – the new standard for versatile all-mountain tires. 
With its ideally designed knobs, its comfortable and forgiven width, the Crossroc Quest tyre is perfect for All-mountain riders looking for great versatility: dry, muddy, rocky, hardpacked or loose, this tyre than can do it all. 

Tire technologies: 
UST Tubeless Ready – The UST concept improves traction, control and comfort while reducing inertia and flats. The 'tubeless ready' construction results in a lighter tire for improved performance. Benefits of UST: traction, control, comfort. Tubeless Ready: lighter construction, perfectly air tight with the use of sealant. 
Guard – Strong & Safe. The tire casing is reinforced with an extra layer that helps reduce flats. 
ARC (All Round Compound): All round compound (60 shore A) that makes a versatile and durable tire. 

Maintenance/care: 
Clean with a dry cloth or soap and water. Do not use pressurized water. 
Elite Thermos Nanogelite 4hours
Squeezable thermal bottle with Nanogel insulating material
Twin bottle construction fully wrapped in Nanogel®, the best and lightest solid insulating material in the world
Maintain temperatures for up to 4 hours with cold liquid
Bottle in particularly soft, transparent squeeze material, that facilitates delivery of the liquid
New triple-function cap with soft rubber push-pull nozzle
Easy to grip bottle with ergonomic shape
Capacity: 500, 650ml
Recently Added Products