CicloMaster CM 4.2
The CM 4.2 is the perfect attender for the ambitious cyclist on ample tours. Due to the TwoInOne system it is possible to use two different wheel circumferences. The CM 4.2 there-fore can be used for two bikes and be upgraded with optional cadence reading and heart rate monitor.


Delivery scope 
CM 4.2, handlebar bracket, sensor, spoke magnet and mounting materials
Optional: wrist band (for jogging computer use)

Colour 
silver/black 
Related Products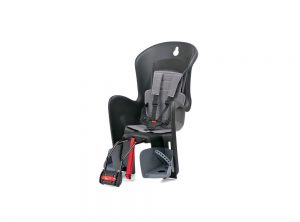 Slumber Childseat
The appealing Slumber child seat is easy to fit and is a fantastic way for you to enjoy cycling with your child. It has a great range of features, including a big cushion and a safety harness with padding, for extra comfort.
Suitable for child's weight 9kg to 22kg
Mounting: Frame – round and oval tubes 28mm-40mm
Seat dimensions: width 416mm x height 724mm x depth 559mm
Seat weight 3.86kg
Complies with European safety standards EN14344
5 point safety harness
Adjustable safety harness with paddings
Extra security belt
Feet protection and retention
2 side and 1 rear reflective stickers
Ergonomic shape for helmet use
Adjustable footrests in 12 positions
Big and washable cushion
Quick safety turn – no tools needed for assembling
Easy assembly
3 optional positions of the baby-seat