Elite Qubo Fluid
Our most powerful fluid unit ever, train simply in silence!
A large flywheel completely immersed in oil enables high resistance levels to be obtained even at low speed.
Unit 100% more powerful compared to a standard fluid.
Qubo frame for rapid initial set-up, roller pressure is set automatically by rider weight, no calibration required.
Thanks to the exclusive compass system, the frame moves to simulate the behaviour of the bicycle on the road.
Fast fixing system: the bicycle can be clamped and released with a single action.
Use the Misuro B+ sensor for compatibility with the My E-Training or third party apps.
Elastogel roller with increased diameter (45mm) for even less noise and better tyre grip.
Folds up quickly for easy transport or storage when not in use.
Related Products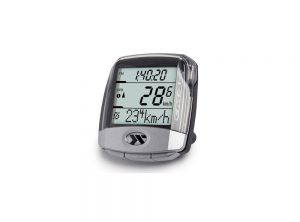 CicloMaster CM 4.2
The CM 4.2 is the perfect attender for the ambitious cyclist on ample tours. Due to the TwoInOne system it is possible to use two different wheel circumferences. The CM 4.2 there-fore can be used for two bikes and be upgraded with optional cadence reading and heart rate monitor.


Delivery scope 
CM 4.2, handlebar bracket, sensor, spoke magnet and mounting materials
Optional: wrist band (for jogging computer use)

Colour 
silver/black