CicloMaster CM 4.1
This button and wireless cycle computer is designed for bikers, who want to focus on the essential – biking, freedom and fun. CM 4.1 is works full automatically, without buttons and shows all necessary data on a three line display. The basic settings can be controlled very easily with two pins on the back of the computer.


Delivery scope 
CM 4.1, handlebar bracket and sensor, spoke magnet and mounting materials 

Colours 
Related Products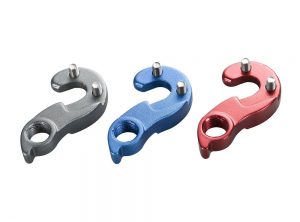 Giant Advanced Road Dropouts
ADD SOME COLOUR TO YOUR CYCLING WORLD.
Giant's new anodised components are perfect for transforming the look of your ride. Suitable for a wide range of models in a choice of colours; give your bike the personal touch.
• TCR Advanced drop out
• Two bolt fitting
• Anodised finish
• Fits:
• 09-10 Avail & Defy Advanced
• 10 Avail & Defy alliance
• 10 Dash & Rapid
• 05-08 Ocr Composite
• 05-10 Tcr Advanced & Advanced & Advanced SL
• 07-08 Tcr Composite