Elite Workstand Race Pro
The world best professional cycling teams trust Elite Workstand Race for the maintenance of the bikes and get ready for the race!
Take care of your passion
Extremely light, made from aluminium
All the components are rustproof and very strong
Folds quickly and compactly for easy transport to events
 Bike support snaps securely into position and then folds easily, by simply pressing a trigger
 Used by Pro Tour teams
Maximum load: 17 kg
Related Products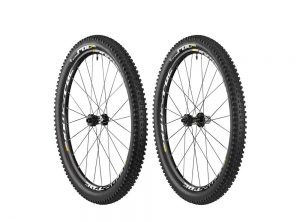 Mavic Crossroc XL WTS 26″ UST Wheelset With Tires
The tubeless wheel-tire system for adventurers: Crossroc XL WTS. 

Crossroc XL brings the wheel-tire system benefits to the Enduro adventurers. The wide 21 mm UST rim perfectly matches the all new Crossroc Quest all round UST Ready tire, allowing to ride fast and worryfree in the harshest conditions. 

The front wheel is compatible to 15 mm thru axles. With an optional adapter it is possible to make your front hub compatible with 20 mm thru axles and a quick release fork. Therear wheel is compatible with 9 mm QR, 12×135 mm thru axles and with an optional adapter, it is possible to make your front hub compatible with 12×142 mm thru axles. 

Top features: 
wide 21 mm UST rim
wide 2.4 Crossroc Quest tire with Guard protection
24 solid spokes
tire and rim perfectly match


Technologies: 
QRM – (Qualité de Roulements Mavic) Mavic only uses high quality sealed cartridge bearings. On QRM wheels, they feature double sealing (2RS or LLU) together with tight C3 internal clearance. High efficiency thanks to low play and tight tolerances. High durability. 
UST – Traction and control Universal Standard for Tubeless. Ready to ride tubeless system. The UST concept improves traction, control and comfort whilst reducing inertia and flats. No tube for convenient handling. Enables to ride at lower tyre pressure. UST rim profile with specific humps to fix securely the tyre beads. Compatible with all types of tires (UST, Tubeless ready, tubetype). 
H2 – (Hammer Hardening) Local strenghtening of the rim in the area where the spokes exert the greatest stress. Improves rim's life expectancy. Resistance to micro cracking. 
TS-2 – (Transfer System 2) Using 2 pawls engaging simultaneously, this freewheel system is also fitted with an alloy monobloc axle that is light and stiff and offers multiple compatibilities. 

Crossroc Quest – the new standard for versatile all-mountain tires. 
With its ideally designed knobs, its comfortable and forgiven width, the Crossroc Quest tyre is perfect for All-mountain riders looking for great versatility: dry, muddy, rocky, hardpacked or loose, this tyre than can do it all. 

Tire technologies: 
UST Tubeless Ready – The UST concept improves traction, control and comfort while reducing inertia and flats. The 'tubeless ready' construction results in a lighter tire for improved performance. Benefits of UST: traction, control, comfort. Tubeless Ready: lighter construction, perfectly air tight with the use of sealant. 
Guard – Strong & Safe. The tire casing is reinforced with an extra layer that helps reduce flats. 
ARC (All Round Compound): All round compound (60 shore A) that makes a versatile and durable tire. 

Maintenance/care: 
Clean with a dry cloth or soap and water. Do not use pressurized water.