Wave Extreme 20 by Raleigh
Introducing the very girly Extreme Wave. Designed by Raleigh the Extreme Wave is a fantastic all-terrain girl's mountain bike. With a strong steel frame it has best quality and also lovely finish and styling!
Wheel size: 20″
Gender: Girls
Colour: pink
Frame: 10″ steel rigid girls low-step through frame
Controls: Steel CP handlebar
Brakes: Alloy v-brakes with alloy/resin levers
Rims: Alloy rims
Tyres: black tyres
Accessories: Colour co-ordinated printed comfort saddle
Related Products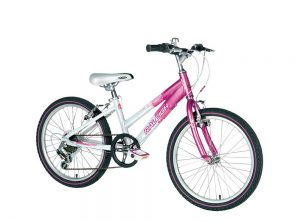 Raleigh Krush 20
The Raleigh Krush, is your perfect mode of transport to get you
to the boy of your dreams, in style.
The sleek and stylish magenta frame with matching handbag is
complimented by a glitter saddle and sparkling laser cables.
The Princess can now jump on board this stunning bike and
find her Prince Charming.
Specification and Features
Style: Girls 20″ MTB
Wheel size: 20″
Frame: Traditional girls frame with oversize elliptical tubing
Gears: Shimano 6 speed gears with Shimano revoshifter
Brakes: Alloy V brakes & levers
Colour: 2 tone paintwork on frame
Wheels: Alloy wheel rims with pink line tyres
Saddle: Glitzy fashion saddle
Pedals: Non-slip safety pedals
Extras: Detachable handlebar bag included