Sunbeam MX 12 designed by Raleigh
The MX12 is designed for the up and coming MotoX star of the future; with a hot new paint finish and cool graphics. The bike is fully equipped with features for a MotoX winner, including a handy water bottle for refuelling at the pit stop.
Gender: Boys
Wheel Size: 12″
Colour: Orange
Material: Steel
Gearset: Single Speed
Controls: High raised handlebar with printed pad
Wheelset:Mini mag wheels with black puncture proof tyres
Finishing Kit: Rear parent handle,water bottle,full chain guard, stabilizers,co-ordinated saddle
Related Products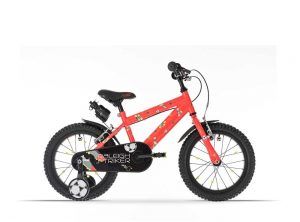 Raleigh Striker 16″
Colours inspired from your football boots, you can ride to the training ground on the Striker in style. Packed with a range of football themed accessories, for the next No.1 striker and with standard safety features your Mum and Dad will be happy too!
Key Features
Hi-tensile steel frame with oversized tubes; for strength and the rigid fork means the bike is easy to manoeuvre
V-brakes; a high level of specification on Raleigh pavement bikes for an improved braking performance
Front V-brake modulator; one of a number of safety features fitted as standard on Raleigh Children's bikes. When your child applies the front brake the modulator regulates the force that goes down to the front v-brake resulting in smoother braking
Resin brake levers; designed to be easily operated by little fingers fitted with an adjustment screw to fit to smaller hands
High rise handlebars, allowing a more upright riding position, allowing your child to become more aware of things around them whilst riding
Aluminium rims, another high specification and safety feature on Raleigh pavement bikes that give an improved surface for the brake blocks to brake against
Junior non slip pedals, a safety feature Raleigh has been fitting to Children's bikes for years, they are fitted with rubber pads which prevent feet slipping off. Each pair of non slip pedals is carefully colour matched to fit the bike design
Full chain guard, colour co-ordinated with graphics to match the bike design, it is a functional necessity. Not only does it stop the dirt getting on your child and their clothes but it also keeps the sharp edges of the chain wheel covered and away from little fingers
Stabilisers are an essential for your child's first bike, giving your child and you confidence during their first cycling adventures, allowing them to learn balance and co-ordination safely
Front and rear mudguards, an essential piece of any Children's pavement bike designed to keep your child clean from any dirt picked up by the tyres, plus they complete the look of the designed bike
A range of football themed accessories including a bell, valve caps and water bottle plus, spoke decorations and printed Striker saddle; at Raleigh we take great pride in designing our Children's range, ensuring that each component – however small is matched to the design