Santini Stylish Classic Cotton Cap
A stylish, classic cotton cycling cap, available in three different trim colours. The TAU is perfect for wearing on its own or under your helmet, and offers great protection from the sun during the hottest rides of the year. Made in Italy.
Related Products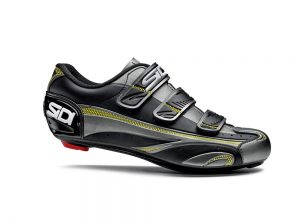 Sidi Apo (Road)
Lightweight entry level shoe with carbon fiber reinforced Millennium 3 sole made of nylon and upper made ​​of synthetic material with 3 comfortable Velcro strap in good quality SIDI.
The reinforced heel keeps the foot in a optimal position and avoids the shoe being deformed by extreme performance or prolonged pressure. For walkability, Sidi cycling shoes include a replaceable polyurethane heel pad.
Millennium 3 Sole: The Millennium 3 sole is a sleek, modern redesign of the Millennium 2 sole. By fortifying the sole with carbon fiber, Sidi designers have created a sole that improves on the technical characteristics of the previous nylon sole. It is constructed out of injected carbon fiber in a nylon matrix. The infusion of carbon fiber gives the sole more rigidity than the previous sole. The Millennium 3 is more durable and less susceptible to changes in stiffness resulting from prolonged usage and changes in temperature. The Millennium 3 features a replaceable non-slip polyurethane heel pad. The heel pad is held in place by a screw. The Millennium 3 is compatible with the best road pedals on the market. To facilitate cleat replacement, the Millennium 3 sole features a 10 mm horizontal and vertical cleat alignment scale molded into the sole as well as the Look Memory Eyelet.
Colour: Black/Titanium