Saddle Giant SL Forward
Giant's new line of performance saddles uses our Dynamic Cycling Fit philosophy to help you find the perfect fit for your body, your position and your riding style. Every Contact SLR and Contact SL model is available in three different options (Forward, Neutral or Upright) based on the unique contact angle of a rider's pelvis while riding.
Features:
High performance material specification
Vacuum formed strong, durable high-quality microfiber cover
Lightweight foam fill
Strategically placed Particle Flow Technology
Composite base material
SST™ lightweight tubular metallic rails
Related Products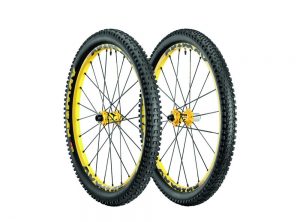 Mavic Crossmax Enduro WTS Disc 650b Wheelset 27.5 inch – Yellow
Developed with world's fastest enduro athletes (Clementz, Chausson), the Crossmax Enduro is 100% developed to maximize the enduro experience. Different rims widths front and rear to accommodate different tire width and tread pattern, unique features to offer the ultimate combination of grip and responsiveness. 

Instant acceleration and dynamic handling thanks to very low weight and inertia. ISM interspoke milling, exclusive Maxtal alloy rims and Spokes made of Zicral alloy. Direct power transfer is guaranteed with Mavic's improved dishes, Isopulse lacing (rear hub) and high quality Fore drilled rims that are compatible to UST tubeless tires. 
The front wheel has 20mm thru-axle, 15mm with the delivered adapter. With an optional adapter it is possible to make your front hub compatible with a quick release fork. By removing the 9mm reducer, which is already assembled in the rear hub, the rear wheel can be ride with 12mm thru-axle. With an adapter the rear wheel can be converted to x-12 standard (12x142mm). 

Key benefits: 
Enduro racing front and rear specific wheel-tire system 
– Grip and comfort front : 21mm rim and Crossmax Charge 2.4″ aggressive tire
– Responsiveness rear : 19mm rim and Crossmax Roam XL 2.2″ fast rolling tire
Mavic key technologies – More responsiveness : ISM, Isopulse, UST Tubeless Ready
– Reliability : Maxtal, Zicral, Guard2
– Full compatibility for front and rear hubs
Unique SSC design
– Endorsed and used by pro athletes
– Matching WTS design 

Rim technologies: 
Fore – By drilling only one rim wall, we made the rim four times more resistant to fatigue stress. All your energy is transmitted through a 40% increase in rigidity. 
ITS4 (Instant Transfer System 4) – Using 4 pawls working 2 by 2, the system provides a more dynamic ride, thanks to a very fast engagement. Its versatility makes it compatible with all kind of frame retention system. Better energy transmission: fast engagement, only 7,5° freeplay between two engaged positions. Stiffer: 17mm monobloc axle. 12mm thru-axle compatible to fit any kind of frame retention system. 
ISM – Inter Spoke Milling. 
Isopulse – This spoke lacing design and mounting brings better wheel stability, a constant spoke tension and a crystal clear transmission of energy. 
Maxtal – Exclusive to Mavic. An aluminum alloy that is 30% more resistant than a 6106 alloy for lighter and spicier rims.
SUP (Soudé Usiné Process) – A welded and milled rim joint which is extremely strong, eliminates shuddering when braking and offers superior wheel balance. 
QRM+ (Qualité Roulements Mavic Plus) – Mavic Quality Bearings Plus. 
Zicral – A highly resistant and lightweight aluminum alloy for spokes. 
UST – Universal Standard for tubeless tires. 

Tire technologies: 
UST Tubeless Ready – The UST concept improves traction, control and comfort while reducing inertia and flats. The 'tubeless ready' construction results in a lighter tire for improved performance. Benefits of UST: traction, control, comfort. Tubeless Ready: lighter construction, perfectly air tight with the use of sealant. 
Guard² – The strongest tire Dual ply construction makes for a super strong casing to prevent flats even at low pressure. Rubber layers thickness is optimized to keep the weight low. Recommended for enduro racing and all types of aggressive riding. 
SCC (Super Contact Compound, Crossmax Charge): The best grip – SCC is the softest compound (40a) and delivers unbelievable grip in all conditions. It gives this extra confidence needed to push our limits. 
ARC (All Round Compound, Crossmax Roam XL): All round compound (60 shore A) that makes a versatile and durable tire. 
CC (Contact Compound, Crossmax Roam XL): Softer compound (50a) that offers excellent grip in both dry and wet condition while not compromising durability and rolling efficiency. 

Maintenance/care:
Clean with a dry cloth or soap and water. Do not use pressurized water.