Saddle Giant Contact SL Upright
Giant's new line of performance saddles uses our Dynamic Cycling Fit philosophy to help you find the perfect fit for your body, your position and your riding style. Every Contact SLR and Contact SL model is available in three different options (Forward, Neutral or Upright) based on the unique contact angle of a rider's pelvis while riding.
Features:
High performance material specification
Vacuum formed strong, durable high-quality microfiber cover
Lightweight foam fill
Strategically placed Particle Flow Technology
Composite base material
SST™ lightweight tubular metallic rails
Related Products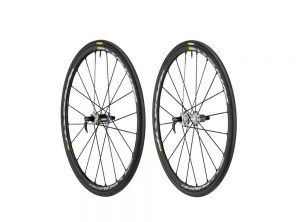 Mavic Ksyrium Pro Disc Wheelset with Tire
Ksyrium Pro Disc: the legendary Ksyrium SL, smartly adapted to Road Disc, for the most epic rides. 

Disc brakes bring more control and predictability regardless of the weather conditions however the wheel still needs to be both bombproof and light. The Ksyrium Pro Disc delivers this thanks to Mavic's 15-year experience in disc brake optimized wheelsets. 

Benefits Road disc optimized: 
Disc specific rim shape
Disc friendly spoke geometry and lacing
Brake torque resistant hubs, including 15 mm front compatibility

Light where it matters: 
New extra light ISM 4D rims
Light and strong Zicral spokes

Efficient, comfortable and durable: 
Isopulse lacing for superior stiffness under high lateral loads
New 25 mm Yksion Pro tyres, featuring GripLink / PowerLink concept
Proven Ksyrium reliability


The new Yksion Pro GripLink makes the difference in cornering. Optimized for front wheel use, thanks to a sticky compound, water evacuation tread pattern and super strong Kevlar flat protection, it will keep you safe on any road and in any weather conditions. 
The new Yksion Pro PowerLink is designed to speed the bike up. Optimized for rear wheel use, its compound, supple nylon casing reinforcement and tread pattern are specifically designed to increase rolling efficiency, making it one of the fastest tire. 

Technologies: 
ISM 4D (Inter Spoke Milling 4 Dimensions) – An exclusive Mavic patented concept, ISM 4D not only significantly reduces weight and reduces inertia without compromising durability, but also improves aerodynamics due to its new rim shape. Further advantages: up to 50 grams lighter for faster climbing, the lowest inertia for instant acceleration and a smooth aerodynamic rim shape to reduce drag. 
FTS-L (Force Transfer System Light) – Reinforcement of key transmission components: the contact area between the pawl and the hub body is reinforced by 2 stainless steel inserts, which allows the use of a 100% aluminum hub body. Advantages: greater efficiency due to better transmission of efforts on the entire wheel and lightweight and strong hub design. 
Fore – By drilling only one rim wall, we made the rim four times more resistant to fatigue stress. All your energy is transmitted through a 40% increase in rigidity. 
Isopulse – The spokes are laced radially on the drive side and crossed 2 on the non drive side to maximise drive side dish, thus providing a better spoke tension balance between left and right flanges. Further advantages: higher stiffness under heavy loads for crystal clear energy transmission and better wheel stability for fewer maintenance. 
QRM+ (Qualité Roulements Mavic Plus) – Mavic Quality Bearings Plus. Those cartridge bearings are of course double sealed with C3 internal clearance, and toped with a micro-adjustability system. 
Zicral A highly resistant and lightweight aluminum alloy for spokes. 
Maxtal – Exclusive to Mavic. An aluminium alloy that is 30% more resistant than a 6106 alloy for lighter and spicier rims. 
SUP (Soudé Usiné Process) – A welded and milled rim joint which is extremely strong, eliminates shuddering when braking and offers superior wheel balance. 

Tire technology: 
GripLINK A good tire must fully liberate the wheel's potential and even enhance its performance. Therefore, the expected benefits of the front tire are different from the rear one. GripLink clinchers are optimized for front use. The safest grip with great steering control: Dual compound "S+" with added Silica. Hold the road in any situation: light and supple high density casing. Reduced risk of flats: strong Nylon anti-puncture breaker. 
PowerLINK A good tire must fully liberate the wheel's potential and even enhance its performance. Therefore, the expected benefits of the front tire are different from the rear one. PowerLink clinchers are optimized for rear use. Superior energy transfer, reduced rolling resistance and safe grip: Dual compound. Improved drive: light and supple high density casing. Higher durability and reduced risk of flats: Dual compound and strong Nylon anti-puncture breaker. 

Maintenance/care:
Clean with a dry cloth or soap and water. Do not use pressurized water.