Rotor Crank 3D+
Rotor Crank 3D+
CNC-machined from aeronautic-grade 7055 aluminum and combined with proprietary technologies, the exceptional stiffness-to-weight ratio of the 3D+ makes it the crank that the pros reach for when winning is all that matters!
Find it at our store only ON ORDER.
Related Products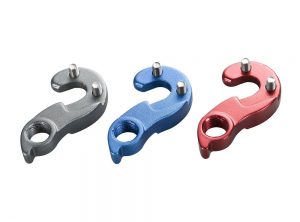 Giant Advanced Road Dropouts
ADD SOME COLOUR TO YOUR CYCLING WORLD.
Giant's new anodised components are perfect for transforming the look of your ride. Suitable for a wide range of models in a choice of colours; give your bike the personal touch.
• TCR Advanced drop out
• Two bolt fitting
• Anodised finish
• Fits:
• 09-10 Avail & Defy Advanced
• 10 Avail & Defy alliance
• 10 Dash & Rapid
• 05-08 Ocr Composite
• 05-10 Tcr Advanced & Advanced & Advanced SL
• 07-08 Tcr Composite