Realm helmet white/blue honeycomb
The Realm is Giant's all-mountain helmet. What does that mean? With all-mountain riding, you tend to have long rides with big climbs and fast, aggressive descents. The Realm is lightweight, so riding in it all day doesn't wear you down. It has 25 huge vents to keep you cool on those long uphills. And when it's time to rip the downhill, the extra coverage gives you confidence to charge the hard line. The Cinch4 fit system gives you quick adjustment and a solid fit, and you get extra pads of varying widths to customize your fit.
Related Products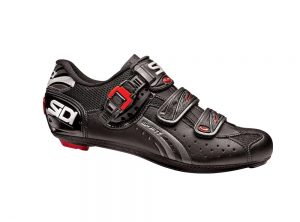 Sidi Genius 5 Fit Carbon (Road)
Perfect allround shoe featuring an improved power transmission and high comfort because of the Millennium 4 carbon sole. Optimal fit and stability because of many technical details and high-quality manufacturing.
Soft Instep 2 System: The anatomical and comfortable strap, placed on the top of the foot and coupled with a soft and thermo-formed material, will increase comfort and performance. It distributes pressure evenly over the arch area, adjustable from both sides to achieve the perfect center position. The system eliminates the need for the High Instep Extender. The Soft Instep Closure System is serviceable and replaceable.
Caliper buckle: The micrometric closure called "Caliper buckle" is adjustable by lifting the central buckle. In order to completely open, lift together both side buckles, or push the center button to slightly loosen one tooth at the time. The system is also adjustable during a race.
High Security Velcro:High security Velcro straps with integrated locking polymer teeth, that engage onto each other when the strap is closed. This feature makes the closure more secure and the strap becomes unmovable.
The reinforced heel keeps the foot in a optimal position and avoids the shoe being deformed by extreme performance or prolonged pressure.
Millennium 4 Sole: High-quality carbon fiber reinforced nylon sole with new carbon look. It is constructed out of injected carbon fiber in a nylon matrix. The infusion of carbon fiber gives the sole more rigidity with simultaneously steady comfort. The Millennium 4 is compatible with the best road pedals on the market. To facilitate cleat replacement, the Millennium 4 sole features a 10 mm horizontal and vertical cleat alignment scale molded into the sole as well as the Look Memory Eyelet.
Colour: Black/Black