Raleigh Ollie Trike
The perfect boys toy, the Raleigh Ollie trike is ready for any
mission. The vibrant blue, red and yellow design is topped of
with front mudguard and a rear tipper bin. So no matter what
difficult situation you might find yourself in on your adventure,
you can be sure that Ollie is there to help you out!
Steel frame construction
Detachable parent push handle for total control
Fitted with a freewheel so the pedals stop when you do
Handy rear tipper bin
Suitable for riders 18 months and up
Related Products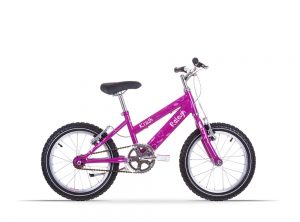 Raleigh Krush 16″
The Raleigh Krush has a beautiful heart design inspired by soft floating feathers, using the latest on trend colours! The Krush is your fashion favourite, with gorgeous coordinating accessories and adorable prints for instant riding style.
Key Features
Hi-tensile steel frame with oversized tubes; the steel frame material and oversized tubes result in a strong frame designed for all styles of riding. The Krush frame has been designed with a lower top tube to allow your child to get on and off easily
Aluminium V-brakes; a high specification on Raleigh Children's bikes fitted for an improved braking performance
Front V-brake modulator; one of a number of safety features fitted as standard on Raleigh Children's bikes. When your child applies the front brake the modulator regulates the force that goes down to the front v-brake resulting in smoother braking
Aluminium/resin brake levers; another high specification on Raleigh Children's bikes, easily operated by little fingers fitted with an adjustment screw to fit to smaller hands
Handlebars for a more upright riding position, as your child grows in confidence and they begin to ride on the roads this style of handlebar allows your child to be more aware of things around them whilst riding
Aluminium rims; another high specification and safety feature on Raleigh Children's bikes that give an improved surface for the brake blocks to brake against
Aluminium prop stand; a feature fitted as standard on all our Raleigh girl's bikes. Using the prop stand the bike can be stood up to keep it clean and to prevent damage which can happen if the bike is dropped onto the floor
Junior non slip pedals; a safety feature Raleigh has been fitting to Children's bikes for years, they are fitted with rubber pads which prevent feet slipping off. Each pair of non slip pedals is carefully colour matched to fit the bike design
Graphics under a clear coat; yet another high specification on the Raleigh Krush, by applying the bike graphics underneath a clear lacquer the stunningly designed Krush will remain undamaged for years to follow
Colour co-ordinated saddles, grips and brake cables, at Raleigh we take great pride in designing our Children's range, ensuring that each component – however small is matched to the bike design