Related Products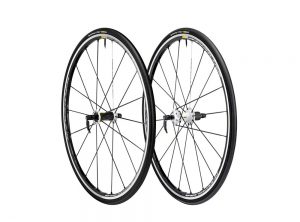 Mavic Ksyrium SLS Wheelset Clincher With Tires
The legendary Ksyrium SL, enhanced once more. Ksyrium has always been synonymous with great overall performance and exceptional reliability. Featuring Mavic's latest technologies together with Mavic's new extra light Yksion Pro tire, this new version is even lighter, even more responsive, and still as strong. 

Straight Zicral aluminium spokes ensure great lateral stiffness and aerodynamics. Lightweight for instant acceleration and steering precision. With carbon hub body, exclusive Maxtal alloy rim and ISM 3D interspoke milling. 

The Yksion Pro GripLink tire is the right tire when grip makes the difference. Rely on the Yksion Pro GripLink features to make the difference in cornering. It has been thought to match with performance of Mavic front wheel-tire system. The Yksion Pro PowerLink is the ideal tire when responsiveness makes the difference. Rely on the Yksion Pro PowerLink features to make the difference in accelerations. It has been thought to match with performance of Mavic rear wheel-tire system. The combination of Yksion GripLink on front and Yksion PowerLink on the rear is the perfect wheel-tire set for the most demanding athletes. 

Technologies:
Fore – By drilling only one rim wall, Mavic made the rim four times more resistant to fatigue stress. All your energy is transmitted through a 40% increase in rigidity.
FTS-L (Force Transfer System Light) – The reinforcement of the key transmission components brings a lighter and stronger hub to allow the energy to flow freely to the entire wheel.
Maxtal – Exclusive to Mavic. An aluminum alloy that is 30% more resistant than a 6106 alloy for lighter and spicier rims.
Isopulse – This spoke lacing design and mounting brings better wheel stability, a constant spoke tension and a crystal clear transmission of energy.
ISM 3D (Inter Spoke Milling 3. Dimension) – ISM 3D pushes the envelope of ISM one step further by not only machining the lower bridge of the rim between each spoke holes, but also its sidewalls. Lighter: easier and faster climbing. Less inertia: instant and effortless acceleration.
SUP (Soudé Usiné Process) – A welded and milled rim joint which is extremely strong, eliminates shuddering when braking and offers superior wheel balance.
UB Control (Usiné Brut Control) – The braking surfaces are milled to improve braking friction and eliminate shuddering.
QRM+ (Qualité Roulements Mavic Plus) – Mavic Quality Bearings Plus.
Zicral – A highly resistant and lightweight aluminum alloy for spokes. 

Tire technology:
GripLINK A good tire, must fully liberate the wheel's potential and even enhance its performance. Therefore, the expected benefits of the front tire are different from the rear one. GripLink clinchers are optimized for front use. The safest grip with great steering control: Dual compound "S+" with added Silica. Hold the road in any situation: light and supple high density casing. Reduced risk of flats: strong Nylon anti-puncture breaker.
PowerLINK clinchers are optimized for rear use. Superior energy transfer, reduced rolling resistance and safe grip: Dual compound. Improved ride: light and supple high density casing. Higher durability and reduced risk of flats: Dual compound and strong Nylon anti-puncture breaker. 

Maintenance/care:
Clean with a dry cloth or soap and water. Do not use pressurized water.