Related Products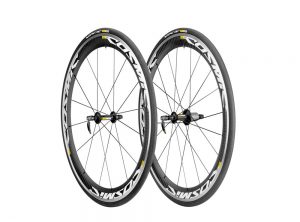 Mavic Cosmic Carbone SLS WTS Wheelset With Tires
The best value aerodynamic wheelset, lighter and stiffer than ever.
Cosmic Carbone SLS features time-proven Mavic carbon capabilities, blending aerodynamics and high stiffness, with one of the lightest aero clincher rims. Feather light Yksion Pro tires and new hubs reinforce its responsiveness. Affordable for any riders, road racers and triathletes! 

Get more aerodynamics!
+ 52 mm deep rims with elliptical sidewalls 
+ Bladed spokes and integrated nipples 
+ New aero hub shells 

Light where it matters
+ alloy flanges on superlight 12 K carbon rims + 190g Yksion Pro tires 

No restriction wheelset
+ No specific tire pressure restriction 
+ Predictable and weatherproof braking 
+ Durable and impact resistant rims 

The Yksion Pro GripLink tire is the right tire when grip makes the difference. Rely on the Yksion Pro GripLink features to make the difference in cornering. It has been thought to match with performance of Mavic front wheel-tire system. The Yksion Pro PowerLink is the ideal tire when responsiveness makes the difference. Rely on the Yksion Pro PowerLink features to make the difference in accelerations. It has been thought to match with performance of Mavic rear wheel-tire system. The combination of Yksion GripLink on front and Yksion PowerLink on the rear is the perfect wheel-tire set for the most demanding athletes. 

Technologies:
Maxtal – Exclusive to Mavic. An aluminum alloy that is 30% more resistant than a 6106 alloy for lighter and spicier rims.
FTS-L (Force Transfer System Light) – The reinforcement of the key transmission components brings a lighter and stronger hub to allow the energy to flow freely to the entire wheel.
QRM+ (Qualité Roulements Mavic® Plus) – Mavic's most demanding level. Those cartridge bearings are of course double sealled with C3 internal clearance, and toped with a micro-adjustability system. Tight tolerances for high rolling efficiency. Quick adjustment according to performance goals: precision "free" adjustment for maximum fluidity, or perfect high precision setting for all-weather rides.
SUP (Soudé Usiné Process) – A welded and milled rim joint which is extremely strong, eliminates shuddering when braking and offers superior wheel balance.
ISM (Inter Spoke Milling) – Lighter rim and equal rigidity is the magic equation to reduce inertia and to free extra power for climbing. A Mavic patented exclusive concept (US 6 402 256). Lighter: easier and faster climbing. Less inertia: instant and effortless acceleration. 

Tire technology:
GripLINK A good tire, must fully liberate the wheel's potential and even enhance its performance. Therefore, the expected benefits of the front tyre are different from the rear one. GripLink are optimized for front use. The safest grip with great steering control: Dual compound "S+" with added Silica. Hold the road in any situation: light and supple high density casing. Reduced risk of flats: strong Nylon anti-puncture breaker.
PowerLINK PowerLink are optimized for rear use. Superior energy transfer, reduced rolling resistance and safe grip: Dual compound. Improved drive: light and supple high density casing. Higher durability and reduced risk of flats: Dual compound and strong Nylon anti-puncture breaker. 

Maintenance/care:
Clean with dry cloth or soap and water. Do not use pressurized water. Do not transport on a bike rack. Only transport the wheels in the wheel bags supplied.