Giant Neos GPS
SIMPLE TO GO. Perfect for entry-level riders or mountain bikers who don't need or want a complex computer for riding or just want to use a simple computer with essential ride performance information and GPS data to share their rides with their friends.
Sizes: 49mm x 74mm x 21mm
Colors: Black
Weight: 55g
Certifications: BLUETOOTH SMART 4.0
Related Products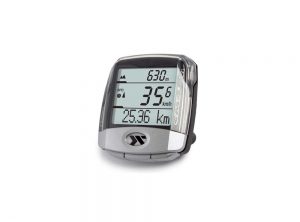 CicloMaster CM 4.4
With his altimeter functions the CM 4.4A is a real summiteer. The multi function computer for athletic orientated cyclists for who every meter counts, informs with up to 44 functions ex-actly about highs and lows of every tour. Due to the optional cadence function one can easily control the effectiveness of the training. Valuable clues in regards to the accurate kick can be given by the optional cadence function.


Delivery scope 
CM 4.4 A, handlebar bracket and sensor, spoke magnet and mounting materials
Optional: wrist band (for jogging computer use)

Colour 
silver/black