Elite Wireless
Digital home trainer with coded wireless communication between resistance unit and handlebar display.
Fluid resistance unit
Super Crono frame
Fast fixing damping mechanism
Large display with 16 functions
Large Elastogel roller
Travel block support included
Available information from the console (16 functions)
Power: current/average/maximum
Speed: current/average/maximum
Grade: average grade/evaluation gain
Distance: average/total
Racetime: average/total
Indicator NM indicates if the current speed higher (M) or lower (N) that the average speed
Flat battery indicator
Related Products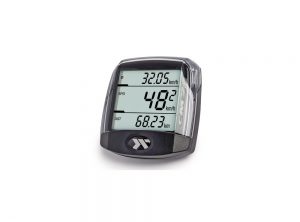 CicloMaster CM 2.1
The ideal cycle computer for beginners and those bikers who want to focus on the essential – biking. It works full automatically, without buttons and shows all necessary data on a three line display. The basic settings can be controlled very easily with two pins on the back of the computer.


Delivery scope 
CM 2.1, handlebar bracket and sensor, spoke magnet and mounting materials 

Colours