Elite Byasi Storage Bottle
A spacious and easy to use tool case!
A stylish reinterpretation of the classic 'tool bidon' as used by many pros when training!
Keeps your tools, tubes, keys and phone safe and dry whilst out on a ride.
Innovative divider allows you to keep your personal effects separate from your tools and spares
Standard diameter (ø 74mm)
Available in white or black colour
Related Products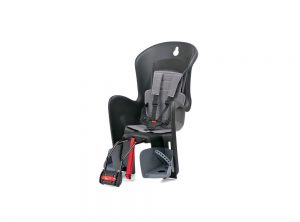 Slumber Childseat
The appealing Slumber child seat is easy to fit and is a fantastic way for you to enjoy cycling with your child. It has a great range of features, including a big cushion and a safety harness with padding, for extra comfort.
Suitable for child's weight 9kg to 22kg
Mounting: Frame – round and oval tubes 28mm-40mm
Seat dimensions: width 416mm x height 724mm x depth 559mm
Seat weight 3.86kg
Complies with European safety standards EN14344
5 point safety harness
Adjustable safety harness with paddings
Extra security belt
Feet protection and retention
2 side and 1 rear reflective stickers
Ergonomic shape for helmet use
Adjustable footrests in 12 positions
Big and washable cushion
Quick safety turn – no tools needed for assembling
Easy assembly
3 optional positions of the baby-seat