Giant Superlight Rain Jacket White
You know how it goes: if you carry a rain jacket, it won't rain; if you don't carry one, it'll pour on you. Giant makes the choice easy with their Superlight Rain Jacket. This water-proof and breathable jacket packs down easily so you can just stuff it into your jersey pocket and go. A full zip makes it easy to get on/off and reflective accents increase visibility just in case it actually does storm on you.
Related Products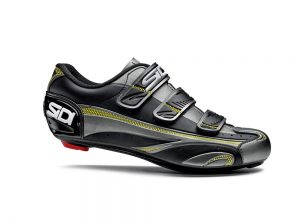 Sidi Apo (Road)
Lightweight entry level shoe with carbon fiber reinforced Millennium 3 sole made of nylon and upper made ​​of synthetic material with 3 comfortable Velcro strap in good quality SIDI.
The reinforced heel keeps the foot in a optimal position and avoids the shoe being deformed by extreme performance or prolonged pressure. For walkability, Sidi cycling shoes include a replaceable polyurethane heel pad.
Millennium 3 Sole: The Millennium 3 sole is a sleek, modern redesign of the Millennium 2 sole. By fortifying the sole with carbon fiber, Sidi designers have created a sole that improves on the technical characteristics of the previous nylon sole. It is constructed out of injected carbon fiber in a nylon matrix. The infusion of carbon fiber gives the sole more rigidity than the previous sole. The Millennium 3 is more durable and less susceptible to changes in stiffness resulting from prolonged usage and changes in temperature. The Millennium 3 features a replaceable non-slip polyurethane heel pad. The heel pad is held in place by a screw. The Millennium 3 is compatible with the best road pedals on the market. To facilitate cleat replacement, the Millennium 3 sole features a 10 mm horizontal and vertical cleat alignment scale molded into the sole as well as the Look Memory Eyelet.
Colour: Black/Titanium