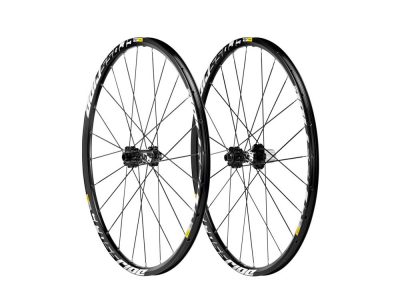 Mavic Crossride Disc 15/12 mm Thru Axle 650b Wheelset 27.5 inch – Black
More than 10 years after its launch, the recipe has changed but the goals remain: quality, efficiency and reliability. Mavic specific technologies ensure enhanced performances on any bike. Completely endorsed by the Crossride – an incredible value! A specific version of the front wheel makes it compatible with 15mm forks. 

The hub construction reduces weight and the higher rim profile increases stiffness. Efficient and reliable wheelset thanks to high-end features: QRM bearings and TS-2 freewheel for direct power transfer, Hammer Hardening (H2) spoke holes and Straight pull spokes – stronger than J bent spokes. Unique esthetics will make any bike look better: black, disc brake specific rim profile, large and visible graphics and bladed aero spokes. 
The front wheel has 15mm thru-axle. With optionally adapter is it possible to make your front hub compatible with a quick release fork. With the included adapter the rear wheel can be converted to x-12 standard (12x142mm). Also it is convertible to 9mm quick release by an adapter, which must be ordered separatly. 

Technologies:
TS-2 (Transfer System 2) Using 2 pawls engaging simultaneously, this freewheel system is also fitted with an alloy monobloc axle that is light and stiff and offers multiple compatibilities. 
H2 (Hammer Hardening) – Local strengthening of the rim in the area where the spokes exert the greatest force. This improves life expectancy and the resistance to micro cracking.
QRM (Qualité Roulements Mavic) – Mavic only uses high quality sealed cartridge bearings. On QRM wheels, they feature double sealing (2RS or LLU) together with tight C3 internal clearance. High efficiency thanks to low play and tight tolerances. High durability.
Self Lock – The special shape of the spoke end, on the thread, makes it impossible to loosen. The spoke stays tightly screwed into the nipple, no tension loss is occuring. As a benefit, the wheel keeps its original roundess for a long time, and does not get out of true.

Maintenance/care:
Clean with a dry cloth or soap and water. Do not use pressurized water.