Giant Contact SLR Bar Tape
Giant SLR Handlebar Tape is the perfect way to personalise your road bike with a fresh new look. Durable for all weathe conditions and includes end plugs and finishing tape.
– Washable synthetic leather surface
– Half perforated finish
– EVA integrated
– Durable all-conditions perforated surface for ventilation
– Includes Giant end-plugs and finishing tape
– Thickness: 2.8mm
– Weight: 78g
Related Products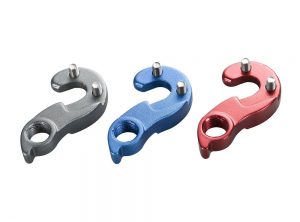 Giant Advanced Road Dropouts
ADD SOME COLOUR TO YOUR CYCLING WORLD.
Giant's new anodised components are perfect for transforming the look of your ride. Suitable for a wide range of models in a choice of colours; give your bike the personal touch.
• TCR Advanced drop out
• Two bolt fitting
• Anodised finish
• Fits:
• 09-10 Avail & Defy Advanced
• 10 Avail & Defy alliance
• 10 Dash & Rapid
• 05-08 Ocr Composite
• 05-10 Tcr Advanced & Advanced & Advanced SL
• 07-08 Tcr Composite