Elite Vaison
Extra strong hard case, with double wall in high-density polyethylene!
Compatible with road and mountain bikes, with suspension and disc brakes, with frame sizes up to 62 cm
Fitting the bicycle inside the case is particularly easy thanks to the hinges that allow 180° opening of the two shells similar to that of suitcases
The four fasteners with incorporated lock prevent possible theft of components during transport
The two handles located on the sides of the case enable lifting and carrying is facilitated  by the bottom wheels
Related Products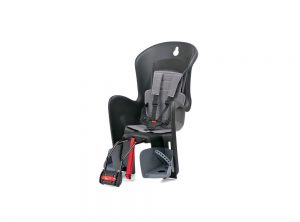 Slumber Childseat
The appealing Slumber child seat is easy to fit and is a fantastic way for you to enjoy cycling with your child. It has a great range of features, including a big cushion and a safety harness with padding, for extra comfort.
Suitable for child's weight 9kg to 22kg
Mounting: Frame – round and oval tubes 28mm-40mm
Seat dimensions: width 416mm x height 724mm x depth 559mm
Seat weight 3.86kg
Complies with European safety standards EN14344
5 point safety harness
Adjustable safety harness with paddings
Extra security belt
Feet protection and retention
2 side and 1 rear reflective stickers
Ergonomic shape for helmet use
Adjustable footrests in 12 positions
Big and washable cushion
Quick safety turn – no tools needed for assembling
Easy assembly
3 optional positions of the baby-seat